IBEW Local 488
the Right Choice
Western Connecticut's Most Experienced Electricians.
ABOUT IBEW Local 488
IBEW Local 488, Bridgeport, received its charter on April 1, 1913, with nineteen original members. With Sikorsky Aircraft, Remington Arms and Avco Lycoming in our jurisdiction, we quickly grew to meet our nation's defense needs.
In 1969 we merged with Danbury Local 525, in 1981 with Waterbury Local 660 and again in 2009 with Norwalk Local 208 to increase our jurisdictional area to include most of northwestern and southwestern Connecticut.
As technologies expand and industries transform, Local 488 is driven to continue providing a proven and skilled workforce in Western Connecticut. Local 488 also continues to work with state and local officials to meet the needs of our communities with new schools and public service facilities equipped for the 21st Century.
In 2012 Local 488 opened its new headquarters and training facility in Monroe, Connecticut. Through our apprenticeships and continuing education programs, we will be ready to meet new technology needs and challenges that lie ahead with the best-skilled craftsmen for the electrical industry.
.
Frequently
Asked
Questions
As a starting point, here are some basic questions and answers about IBEW 488 and your membership with us.
IBEW Local 488
For over 100 years, Local 488 has grown to provide the cities and towns of northwestern and southwestern Connecticut with a highly trained workforce. With a mission to create and ensure a workplace that provides safety, fairness and dignity for all our members, we stand for the ideals that have made America the great nation that it is today: democracy, equal opportunities and a chance to live the American dream.
Authorization Card
A copy of the IBEW form will be sent to IBEW and to you as well.
All information is strictly confidential and never shared with the employer!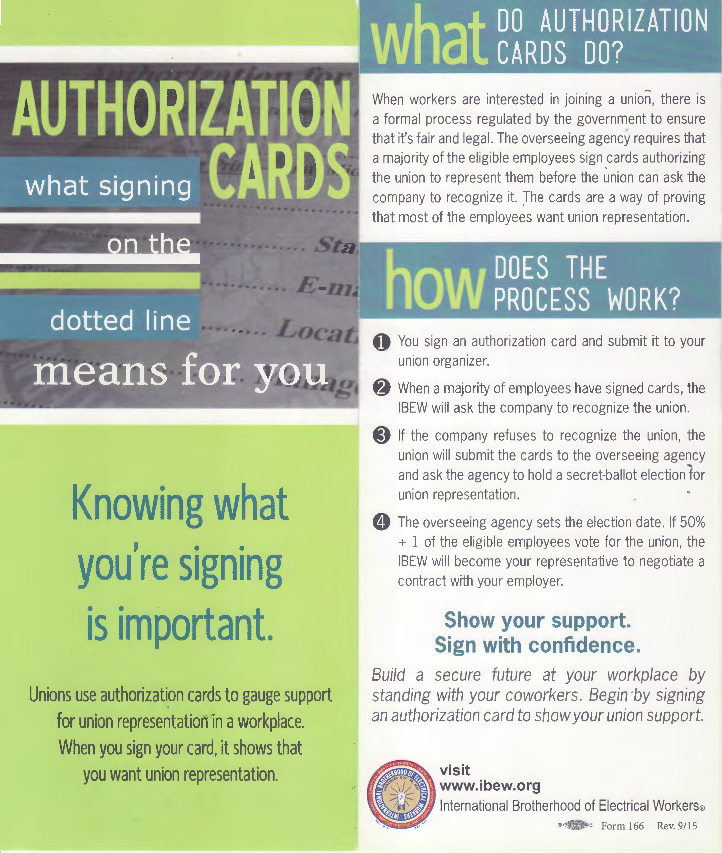 721 Main Street
Monroe, CT 06468
203-452-7679 PHONE
203-459-2553 FAX
[email protected]
Website: www.ibewlocal488.org
Union Members